This listing has ended.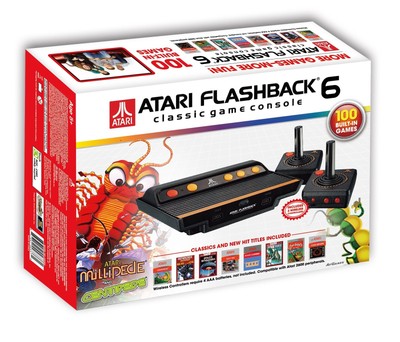 Similar items you may be interested in
Video Games & Consoles > Video Game Consoles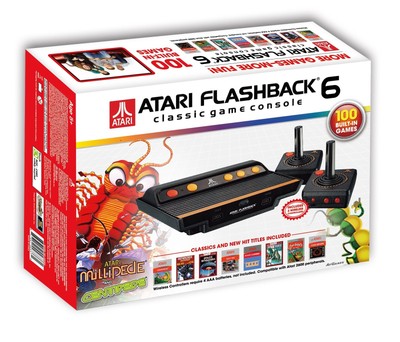 Similar items you may be interested in
Description
Atari Flashback 6 Classic Game System with 100 Games Product Features 100 Classic Games Built-in Product Specifications Pricing: The strikethrough price is the List Price.

Savings represents a discount off the List Price.

Product Dimensions: 9.1 x 2.4 x 5.9 inches 1.2 pounds Media:: Accessory Why you Should Buy from Us? We are a Trusted Seller with Great Feedback Quick Shipping and Tracking BIG Discounts Excellent Returns Policy The BEST Customer Service Shipping & Returns We Ship Worldwide! 14 Day Money Back Return Policy Items Ship within 24-72 Hours Get Your Purchase FAST! Product Description Return to the oak-paneled basement of glory and the scene of your greatest youthful triumphs with your very own Atari Flashback game system.

This old- school classic lets you grasp the familiar joystick of yore as you maneuver and blast through 100 classic games, including Asteroids, Missile Command, Centipede, Millipede, Battlezone, Super Breakout, Tempest and dozens more.

Best of all, this system is plug-and-play on any television and includes an AV cable and AC adapter.

Just add 4 AAA batteries (not included) and youll be back in your happy place.

Ages 5+. Included Games 3D Tic-Tac-Toe Adventure Adventure II Air Raiders Air Sea Battle Aquaventure Armor Ambush Asteroids Astroblast Atari Climber Backgammon Basketball Black Jack Bowling Breakout Canyon Bomber Centipede Championship Soccer Chase It Circus Atari Combat Combat Two Crystal Castles Dark Cavern Demons to Diamonds Desert Falcon Dodge Em Double Dunk Escape It Fatal Run Flag Capture Football Frog Pond Frogs and Flies Front Line Fun with Numbers Golf Gravitar Hangman Haunted House Home Run Human Cannonball Indy 500 International Soccer Jungle Hunt Maze Craze Millipede Miniature Golf Miss It Missile Command Motorodeo Night Driver Off the Wall Outlaw Polaris Pong (Video Olympics) Radar Lock Realsports Baseball Realsports Basketball Realsports Soccer Realsports Volleyball Return to Haunted House Saboteur Save Mary Sea Battle Secret Quest Shield Shifter Sky Diver Slot Machine Slot Racers Solaris Space Attack Space Invaders Space War Sprintmaster Star Ship Star Strike Steeplechase Stellar Track Street Racer Strip Off Submarine Commander Super Baseball Super Breakout Super Challenge Baseball Super Challenge Football Super Football Surround Sword Fight Swordquest: Earthworld Swordquest: Fireworld Swordquest: Waterworld Tempest Video Checkers Video Chess Video Pinball Warlords Wizard Yars Return Yars Revenge Thank You For Your Business!